Keynote Speaker
Keynote Speaker I


Prof. Marco Casini
SAPIENZA University of Rome, Italy
Prof. Marco Casini is a leading academic in the Green and Smart Building sector with over 20 years experience in Building Sciences.
He is an environmental engineer, PhD in Environmental Engineering and Research Fellow in Architecture Technology at Sapienza University of Rome, Department of Urban Planning, Design and Architecture Technology. Since 2002 he has been Professor of Architecture Technology and of Environmental Certification of Buildings at the Faculty of Architecture of Sapienza University where he also teaches in several Master's, PhD and Graduate schools on subjects pertaining to Energy and Environmental Sustainability for Buildings. Dr. Casini's research activities cover a wide spectrum of topics within sustainable architectural design and energy efficiency of buildings, focusing on advanced materials and nanotechnologies for smart building envelopes as well as integrated renewable energy systems. He worked as scientific coordinator on major projects including the development of "Italian regional system for the certification of environmental sustainability of buildings - Protocollo ITACA Lazio" (2014) and the preparation of the "Sustainable Energy Action Plan of Rome" within the European Covenant of Mayors for Climate and Energy (2012). Dr. Casini's professional activity has included scientific and technical consultancy on technological, environmental and energy aspects related to the design and construction of complex building structures worldwide, as well as training on Green Building and Smart Cities strategies and policy making for Italian public authorities (Prime Minister's Cabinet, Ministry of Internal affairs, Regione Lazio).
Keynote Speaker II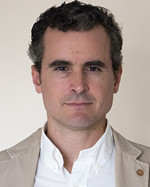 Prof. Ignacio Javier Acosta García
Department of Building Construction, School of Architecture, University of Seville, Spain
Member of TEP-130 research group, specialized in design, development and integration of installations and building systems, both basic and advanced, as well as in environmental conditioning in thermal, acoustic and lighting comfort. Simultaneously ranks as one of the national reference groups in the field of analysis of energy efficiency and environmental sustainability of the buildings, including the use of renewable energy.
06.2004: BS Architect Degree in Architecture
06.2007: MS Master Degree in Master in City and Sustainable Architecture
06.2012: PhD from the University of Seville.
Research experience:
15 indexed articles in JCR related with daylighting in architecture, energy efficiency in buildings and smart controls for electric lighting. H-index: 7. Accumulated impact factor JCR: 47.983
2 research stays at the Lighting Research Center of New York.
5 research projects or contracts related with energy efficiency. Main researcher of DYNALIGHT project: Efficient design for biodynamic lighting to promote the circadian rhythm in shift work centers.
Relevant awards:
Extraordinary doctorate award from the University of Seville, 2012.
University of Seville Award for research work of special relevance in the area of Engineering and Architecture, 2016.
Keynote Speaker III

Prof. Miguel Ángel Campano Laborda
Department of Building Construction I, Universidad de Sevilla
Research field: Thermal comfort and HVAC systems in buildings, energy efficiency, daylighting in architecture.
Education:
–09.2015: PhD in Architecture from the University of Seville.
–05.2012: MS Master Degree in Master in Architecture Facilities Project: Design, Calculation and Energy Efficiency.
–01.2011: MS Master Degree in Master in City and Sustainable Architecture
–03.2009: MS Master Degree in Architecture
–03.2009: BS Architect Degree in Architecture
Research Experience
–Santamaría, J.; Girón, S.; Campano, M. A. (2016). Economic assessments of passive thermal rehabilitations of dwellings in Mediterranean climate. Energy and Buildings 128, 772-784.
–Acosta, I.; Campano, M. A.; Molina, J. F. (2016). Windows design in architecture: analysis of energy savings for lighting and visual comfort in residential spaces. Applied Energy 168, 793-506.
–Acosta, I.; Muñoz, C.; Campano, M.A.; Navarro, J. (2015).Analysis of daylight factors and energy saving allowed by windows under overcast sky conditions. Renewable Energy 77, 194-207.
–Campano, M.A.; Acosta, I.; Fernández-Aguera, J.; Sendra, J. J. (2014). Towards finding the optimal location of a ventilation inlet in a roof monitor skylight, using visual and thermal performance criteria, for dwellings in a Mediterranean climate. Journal of Building Performance Simulation 8 (4), 226-238.
–León, A. L.; Domínguez, S.; Campano, M. A.; Ramírez-Balas, C. (2012). Reducing the Energy Demand of Multi-Dwelling Units in a Mediterranean Climate Using Solar Protection Elements. Energies 5 (9), 3398-3424.
–Project Sub-Umbra: Tertiary use buildings energy rehabilitation in Mediterranean climate through the solar protection devices optimization.
–Solar Decathlon LAC2015: Institutional research project.
–Project CELL: Energy and environmental rehabilitation of social housing in Andalusia: evaluation test cells.
–Project Efficacia: Energy consumption and environmental impact reduction in the Official housing construction in Andalusia..